ICO Watchdog?
Its time to start cleaning up the ICO ecosystem. Every day when I have some time to chill, I start leaving the millions of telegram groups that have been accumulating on my phone. Usually, the groups are dead, or the comments that are being made are so dumb it hurts. I think it's fair to say that the bear market turned us moon boys into adults and the smart ones radically started to rethink their investment strategies. It's funny to see that groups such as balinas are still somewhat active. As far as I know, he now went full on STO, without knowing anything about securities laws and how his behavior would most likely land him a fat fine in the securities market. 
Back in early 2018, at one of his conferences, I actually asked him in front of his group of people if he feels responsible for the current moon lambo infestation that plagued the industry. His reply was some generic answer about MVPs and improvements of the space, how they are forcing ICOs to uphold higher standards and lower caps. I really wonder what happened to that ideology of his.
This bear market hit us as hard if not harder than most investors, and we decided to wake up and change things up and try to clean up the ICO space a bit.
Therefore we decided to add the word Watch to our name. Introducing the ICO Watchdog. 
A fresh start in 2019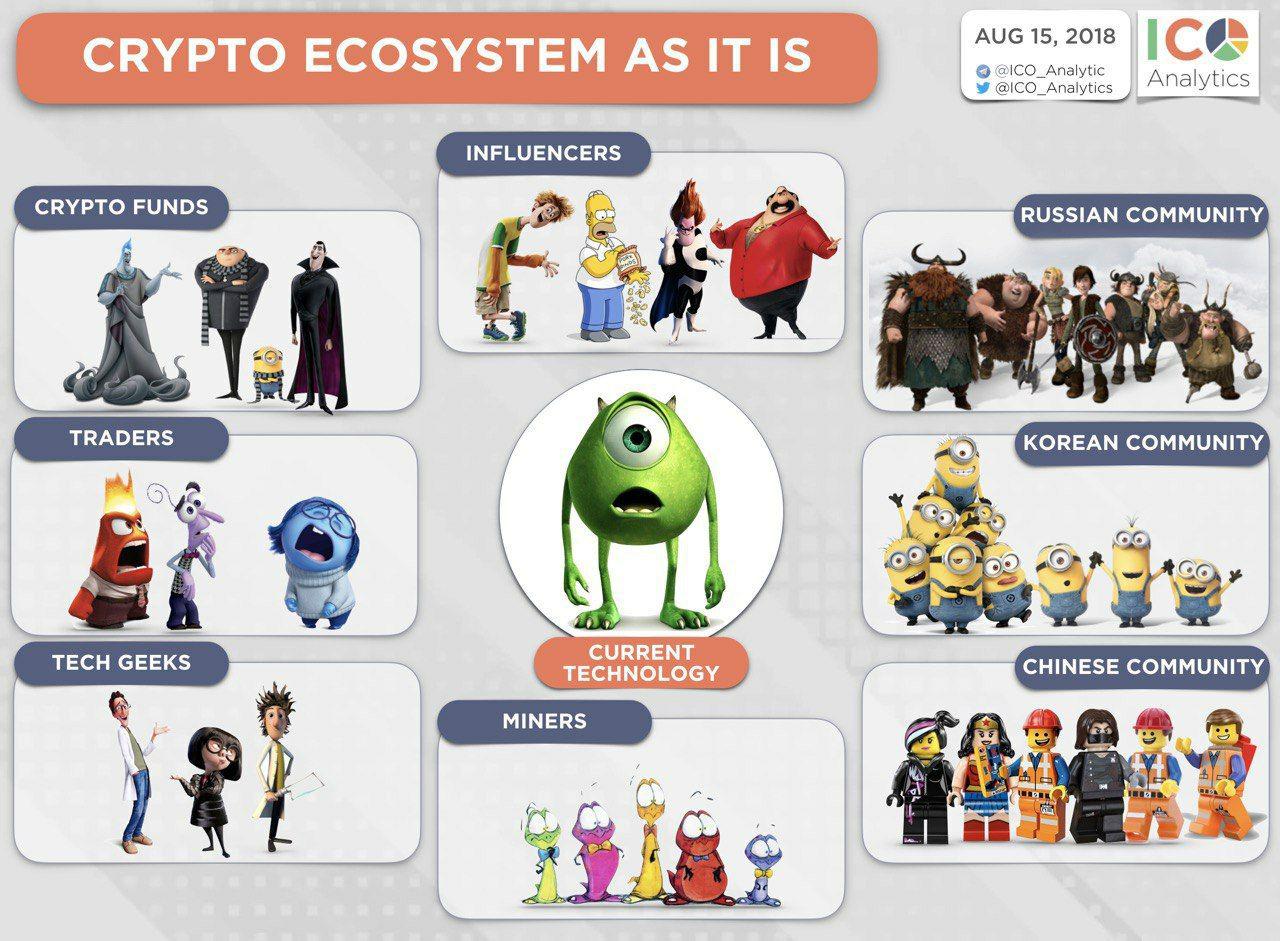 Shoutout to the guys at ICO Analytics
We messed up in many ways in 2018. Greed got the better of all of us and everybody was high of the gold rush. The long bear market was a necessary rehabilitation for many.  Sadly, a lot of people are still chasing the hypes of IEO launchpads making binance millions while getting rekt on the downturn.
Instead of pooling every somewhat quality project, we decided to only take projects that list on our platform, which we have been building for the past 5 months. We set up certain rules that projects have to uphold in order for us to consider to give them money. Projects that have raised seed funding should be able to produce a viable Mainnet or at least a testnet. We managed to build our platform, which has now over 120.000 lines of code only from the money we made on the pools and that was also not that much. 
Therefore we expect the same quality work from those that ask us for money. No more PHDs and successful CEOs of previous startups. The only thing that matters is if they can prove that they can execute in this hyper-competitive and tough space called crypto. There is zero correlation between previous success in the traditional world and in crypto. From what I have seen its actually inverse correlated. Most of the companies that have been high profiles in traditional finance have been huge disappointments, while newcomers that have never achieved anything managed to adapt very quickly to this new world. 
We want to see execution and adoption, and not fancy whitepapers that nobody reads anyway. 
Watchdog Incubations
We came quite far in just about 1 year with absolutely no funding and zero networks. Now we on the ICODOG platform we have over 10.000 registered investors, full compliance onboarding procedure a partnership with one of the leading STO exchanges in Europe and good outlook to being able to become a main STO primary emitter. We raised over about 15% of the all ICO public sale fund raises (not counting Initial Scam Offerings IEOs), and over 30.000 users registered on our white label solutions. Our mass media page icodog.io is producing daily educational material and we are going viral on steemit on a weekly basis. 
More at https://steemit.com/@icodog
This month we merged with a marketing company and partnered up with one of the only proper working market makers in the space, to provide a full-on incubation process for ICOs from seed until adoption. Most "incubators" just want tokens and then jump to the next project, as soon as they have liquidity for their payment. The result is a stagnating ecosystem in which nothing is getting done. IEOs, ICO marketing companies, and hype-driven ICO advisors are the main reason why the whole world is laughing at the cryptocurrency ecosystem. Nothing can be done if everybody picks up work and drops it 2 minutes later to jump on the next hype wagon. 
We provide strategies and solutions for ICOs to get their tokens into the hands of valuable open source developers, influencers, business integrators, and local community members. Finding teams that strive for long terms goals is hard in the space, but our 2 years experience investing into ICOs, reading 100s of whitepapers and meeting tons of ICO projects helped us getting good at quickly sorting out the hype from fundamentals. 
We are now actively working on becoming the number one incubators for token based startups out of Europe. We believe that the European cryptocurrency space is still young, but has a lot of potential. Asian hype generated Ponzi projects are dying out and the new age of work and adoption is slowly becoming more and more real.
Who are the Watchdogs?
Our team has been staying the background for a long time. ICO pooling was a gray zone and without KYC & AML we wanted to keep our distance.
We have started talking to a lot of influencers, youtubers and exchanges to try to build a self-regulatory alliance that will establish rules for upcoming and past ICOs.  We will talk more about this in a separate blog post this month. To achieve these set of globally accepted rules we have been traveling a lot recently to meet more people and get them onboard. 
We also are planning to work more in collaboration with Crypto Arnie to do start grilling high network ICOs who raised millions and getting them off their high horses. 
Our team is currently 13 people that are mostly working part-time on the project. You already know the core team members such as Gio and Andre who are active in the chat rooms. Then we have another 5 people in marketing sales for incubation, 2 more developers, 3 writers and lots of community members who help us with small things. We will do a more formal introduction of all the team members this month. 
Tech development 
We have been very busy with further development of the platform, this month alone we committed almost 15.000 new lines of code. The biggest addition to the platform is the blockchain distribution integration. We now support the automated distribution of Ethereum, ERC20 tokens, and waves based tokens. Token holder integration and the investor index formula have also been completed. 
We can now track and incentivize investors to be more engaged and actively hodl their tokens on three different platforms. This allows for direct messaging of important announcements directly to tokens holders. We have integrated some cool functions such as the anti fud button, that will mute any messages by non-holders for 30 min.
We have also finished the Formula and game theory for the first version of social mining. We are now pioneers in changing the status quo on how crypto startups are being run. By evaluating, engagement, time holding useful productivity within the ecosystem we can now give ICO community members an individual salary based on their work and quality as an investor. For our first client, around 46% of all ICO investors have now engaged a weekly basis and are holding the tokens.
It's amazing to see how much can be done if the team actually focuses on doing their job instead of focusing on raising money from greater fools. 
February Progress Conclusion
We are extremely happy with the current development that we have achieved in the first half of Q1 of 2019. Both in business development as well as product development, we have outperformed our set goals. We are still lacking in marketing for the ICO DOG brand and want to acquire more readers for our educational material. 
For March, our goals are to incubate our next client, that we will announce next week, and make them an even greater success than LTO Network. In March we will also have the first conference meeting with all the major ICO influencers in the space to discuss the Self Regulatory Alliance. We have been making a lot of friends last few months and this month we plan to sign more partnerships with exchanges and hackathon organizers. 
In terms of product development, we are planning to improve the user roles and permissions and also finish the first beta version of the community board for our projects. More on the community board next month. 
We bought the new domain icowatchdog.com and are in talks with designers to get a really nice branded website running and kick start 2019 with a complete branding. 
As always we want to thank our community for being great with us, and tolerable the recent delays in distribution of the pool. As you can see we are working NON-STOP to keep our promises and to give value to those DOG Points that many of you have been collecting. 
If you want to learn more about us check out our previous Progress reports and join us on this amazing journey: